The Spotlight That Could: The ECE Certified Side Shooter Light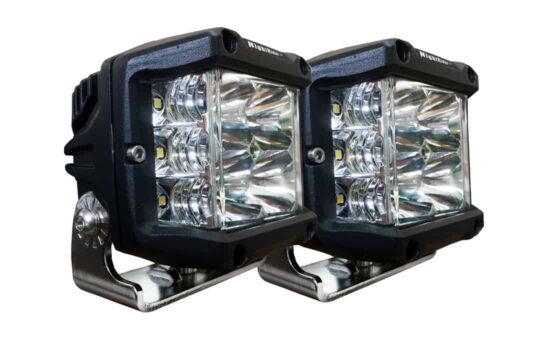 Who said you could not have your cake and eat it too?
Up until recently, if you were in the market for a compact cube light, you had to make a choice: Spot or Flood.
The Spot Light would allow you to see well into the distance but its beam would be narrow. The Flood Light would illuminate a big area around you but its beam would not reach very far ahead.
The new compact Side Shooter Light is a spotlight with added flood reflectors on its sides so that you CAN get the best of both worlds! The light's center consists of 4 high power 5W OSRAM LEDs with 8º Spot Reflectors while each of its sides have 3 high power 1W OSRAM LEDs with 140º Flood Reflectors. This allows you to have a strong spot beam shining far ahead while at the same time having enough flood lighting on the side to light up the ditches and spot wildlife.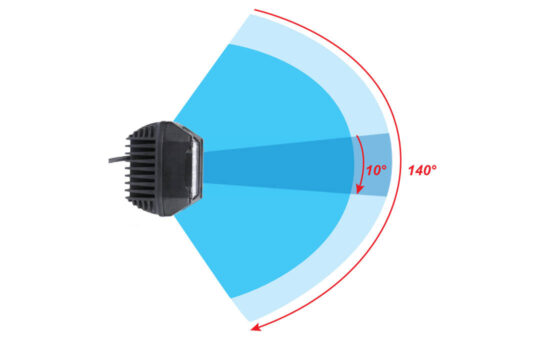 The Side Shooter is ECE R112 certified, making it street legal for on road driving in most Canadian provinces and territories*. Its lens is clearly marked to allow law enforcement and vehicle inspectors easy identification for on road compliance (see below).
The Side Shooter light can be purchased as a Single Shot (one side shooter light with Deutsch plug and stainless steel mounting hardware) or as a complete kit, the Double Shot (two lights with complete 'Plug & Play' wiring harness and stainless steel mounting hardware).
*Always check with regional rules and regulations regarding the use of auxiliary driving lights. NightRider™ LEDS strives to deliver the safest and most lawful lights, but cannot be held accountable for regional restrictions, improper mounting, aiming, or wiring.