Street Legal LED Fog Lights Are Here!
NightRider™ is proud to now provide high output street legal LED fog lights. 
Fully SAE J583 Certified and DOT Compliant*.
We are very excited about our new street legal led fog light kit, and have been hearing rave reviews from our dealers on performance. Everybody loves the compact led cube light design, so we decided to provide a foul weather fog busting led performance kit that fully meets DOT compliance* in the same popular 3 inch cube light form factor. 
Every kit comes complete with two 3 inch Fog Cube lights, universal mounting hardware and complete wiring harness with switch, fuse, relay and ample wire in loom.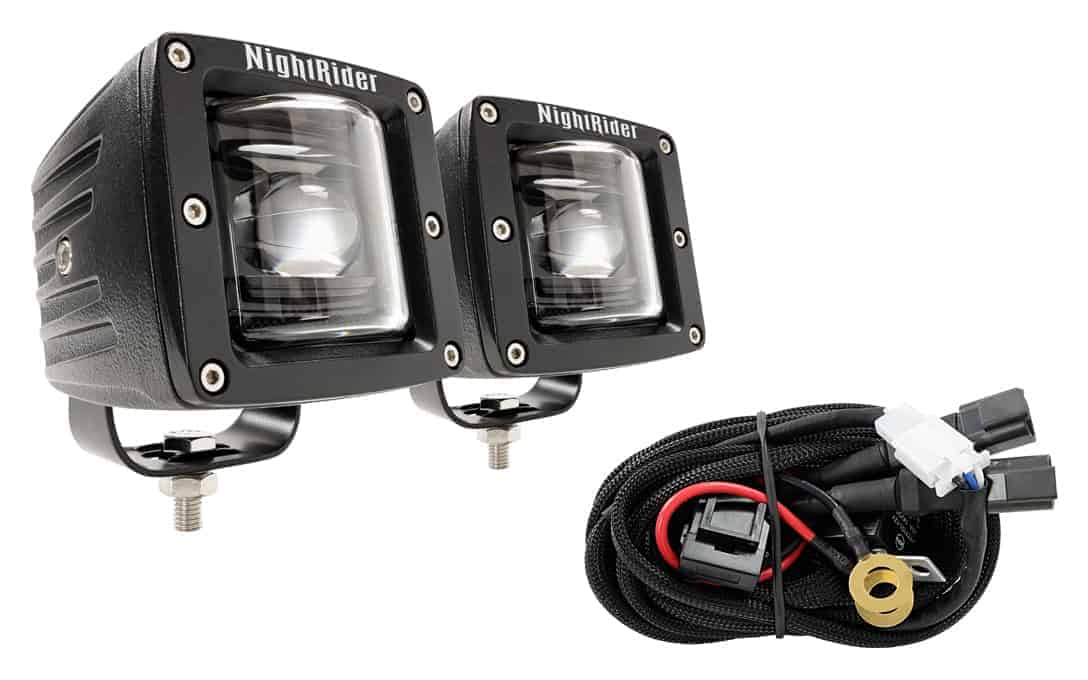 NightRider™ Street Legal SAE/DOT Fog Light Kit
Picture this, you are driving home, its dark, and the road ahead is blanketed with snow.  Forget trying to see the road lines, you just want to stay out of the ditch!  Top it off and it starts snowing so hard that leaving the high beams on presents you with a dizzying  wall of white.  Switching to low beam is little better leaving you with a depressing yellow tunnel with stock fog lights that are of no help at all.  An all too common problem in our Canadian winters.
Stock Fog lights
Now turn on your NightDriver™ Street Legal LED Fog lights, and watch as the light cuts through the night like a laser.  The ditches are now fully illuminated and you can actually see the road ahead of you! 
NightRider™ Fog lights
 This is thanks to the incredible engineering that went into the custom optics of our fog lights.  Very little light is allowed to scatter and blind the driver and oncoming traffic. Instead, the engineered optics concentrates the powerful LED light into a very intense and wide beam that slices through the night.  
Ditches are fully illuminated to reveal any wildlife hazards that would otherwise go unnoticed, saving damage and perhaps life.  Fully illuminated ditches from side to side also allows you, the driver, to stay in your own lane reduce fatigue and help you get home safely and comfortably.
Let me vouch for these powerful little fog lights.  I personally just returned from a 2700km road trip with my young family through some of the nastiest winter driving roads that British Columbia has to offer.  These fog lights performed well above my expectations.  Even though I am running two 12″ NightDriver™ Auxiliary Driving Light Bars, I found myself using the fog lights for the majority of the trip.  Between slush, white-outs, on-coming traffic, and numerous wildlife encounters, these fog lights were indispensable.  I also love the fact that when I have to dip to low beam from the powerful NightDriver™ Auxiliary Driving Light Bars, I can still see the road and ditches.  Before these fog lights, dipping to low beam meant a cruel return to the dim dark tunnel of conventional lighting.  Based on my personal experience, these are a must have light for Canada and other northern regions.
We at NightRider™ understand seeing is believing, so find a dealer near you and test out our fog lights for yourself.  We are certain you will be more than satisfied by the results on the road.  
*Your NightDriver™ Series auxiliary fog lights are certified for on road use conditional to the rules and regulations of the region in use. NightRider™ LEDS products are designed to be easily installed by qualified professional automotive technicians. Please remember it is the vehicle owner's responsibility to ensure all products are properly, safely and legally installed in accordance with the regional regulations of use. NightRider™ LEDS takes no responsibility for incorrect installation and/or any resulting damages thereof.