Introducing: Heated NightDriver™ Series
Let snow and ice build-up on your lens during the winter months be a thing of the past!
Our newest series of light bars has it all: Heated Lens to keep snow and ice from building up, High Power 5W OSRAM LEDs, Narrow Profile, Dual Mounting System, and ECE Certification making it street legal in most provinces*!
Equipped with an internal temperature sensor, the heating function in the lens is activated when the light's internal temperature falls below 20ºC and will turn itself off once that temperature reaches 40ºC.
Compared to our regular double row light bars, the new heated lens series bars are much narrower in profile: 65mm deep as opposed to 86.5mm. This 25% reduction will give your install a sleek look!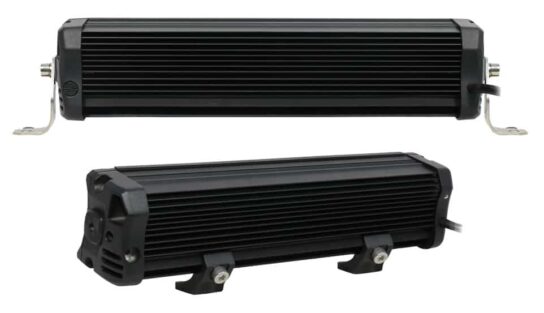 All Heated Lens E-Mark bars come with dual mounting systems.
They can either be mounted with stainless steel side brackets, or with the sliding back mounting brackets.
All brackets for either mounting system are included in the kit, together with a full wiring harness for quick plug & play.
Available as a single 6″ bar, a kit with two 6″ bars, a 12″ and a 20″ bar.
*Always check with regional rules and regulations regarding the use of auxiliary driving lights. NightRider™ LEDS strives to deliver the safest and most lawful lights, but cannot be held accountable for regional restrictions, improper mounting, aiming, or wiring.