10 Reasons NightRider™ Full Cut Off LED Wall Packs are Superior
Two styles of wall packs prevail in perimeter wall lighting.
Flood Wall Packs & Full Cut Off Wall Packs
Flood wall packs, as the name suggests, flood large wide areas outwards from a buildings perimeter wall.  The light from a flood wall pack spills down, outward and upward into the sky.  Flood wall packs are therefore great where very large areas are desired to be lit without restrictions of light trespass.
"NightRider™ full cut-0ff LED wall packs
are the future of perimeter building lighting."
Full cut-off wall packs offer a full 90º horizontal shield focusing the light down along building wall perimeters illuminating walking zones and building parking while reducing light glare and light trespass into neighboring properties. This makes full cut off wall packs much desired where efficiently focusing light along a building wall perimeter is desired.
So why choose full cut off wall packs?
1. Designed for Exterior Walls, Paths & Entrances.
Full cut off wall packs are specifically designed to be easily installed along the exterior of building walls to illuminate with maximum efficiency parking zones, alley ways, pathways, entrances and loading docks/bays.
2. Four Times More Efficient than HID Metal Halide.

NightRider™ full cut off LED wall packs feature exceptionally efficient LED chip technology attaining up to 130 lumens/watt.  Compare this to full spectrum metal halide HID which averages 20-30 lumens/watt.  This equates  4 to 6 times more efficient than traditional HID solutions.  Additionally focusing the light downwards reduces the amount of wasted light upward into the sky. 
3. Huge Savings in Energy Cost over Life Span (L70)

NightRider™ full cut off LED wall packs will produce huge savings in energy bills over the 50,000hrs life time (L70) vs comparable HID metal halide solutions. 
Definition: L70 = Industry standard rating in hours to reach 70% output rating from original output.
Compared to traditional HID which will reach 70% output at maximum 20,000hrs if the bulb or ballast does not fail before that.
Energy savings can equate upwards of 10-15 times and more once you factor in energy costs, replacement cost of bulbs and ballasts.
4. Dark Sky Compliant
More and more municipalities and jurisdictions are requiring property owners to meet Dark Sky compliance for their exterior lighting.   NightRider™ full cut off LED wall packs are fully Dark Sky compliant and significantly reduce the amount of light spilled into the sky wastefully.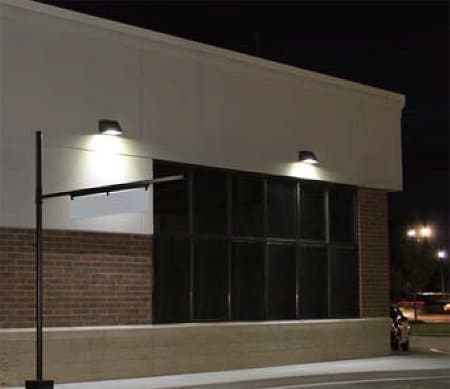 5. Focused Light on Desired Scene
NightRider™ full cut off LED wall packs focus light down onto your desired scene.  Controlled focus of light increases the total illumination of desired zones.  More light is focused on parking, pathways, alley ways, loading docks and bays, and entrance ways.
6. Neighbor Friendly Reduced Light Trespass
Focused light also means thoughtful control and reduction of light trespass into neighbouring properties and assets.  Most municipalities have bylaws to enforce against light trespass from one property into another property where glare and illumination is not desired. NightRider™ full cut off LED wall packs will help reduce your total light trespass and show good faith in controlling undesired light glare.
7. Low Light Glare
Focused down light helps reduce glare for drivers and pedestrians while producing a favorable illumination for increased security and awareness.
8. Durable Design
NightRider™ full cut off LED wall packs are built with vibration resistant wiring and electronics.  This is especially important in industrial applications where normal vibrations drastically reduce the life span of existing HID solutions.  The durability feature alone is enough to save business huge amounts of money and down time replacing delicate HID bulbs and ballasts.  NightRider™ LED cut off wall packs are also designed with a solid aluminum housing.  This gives increased resistance against accidental impacts and vandalism, once again increasing security, and savings.
9. Over 50,000hrs Rated Life (L70)
NightRider™ full cut off LED wall packs will outlast traditional HID solutions many fold.  The rated life of 50,000hrs is not to rate life expectancy or failure but to give a clear target of light output rated at 70% of original output in hours.
10. cUL/DLC Certified
This can easily be placed at the top of list, since it will be the first thing a qualified electrician will look for before installing. NightRider™ LED cut off wall pack lights have all be certified for cUL/DLC communicating electricians that these luminaries meet or exceed industry standards and comply with insurance requirements against liability.